Sabudana Khichdi Recipe ( साबूदाना खिचड़ी )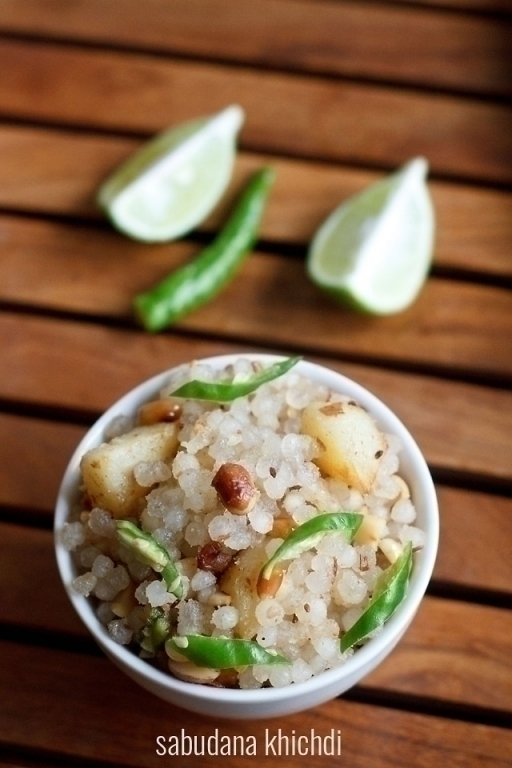 Ingredients
for peanut powder:
¼ cup roasted peanuts/moongphali (dry grind roasted peanuts to powder)

for sabudana khichdi
2 tablespoons peanut oil, you can also use ghee,
1 cup sabudana or tapioca pearls,
2 small to medium size potatoes/aloo, peeled and chopped into small cubes,
¼ cup roasted peanuts/moongphali,
1 to 3 green chilies/hari mirch, chopped (you can add more green chilies if you want),
1 teaspoon cumin seeds/jeera,
½ to 1 teaspoon sugar or as required,
½ to 1 teaspoon lime or lemon juice or as required  (optional),
sendha namak or rock salt as required.
Directions
soaking sabudana:
rinse 1 cup of sabudana or tapioca pearls a couple of times in water. soak them in 2 cups water for a couple of hours or overnight. 
To check, just gently press a few sabudana pearls by pressing if they are soft or not. the sabudana pearls should easily mash.
drain them well or place them in a colander/strainer for 5 to 6 mins. keep aside.

making sabudana khichdi
heat a pan and add ½ cup peanuts.
on a low flame, stirring at times, roast peanuts till you see a few black spots on them. they should become crunchy. keep them aside and let them cool. you can remove the peanuts skin if you want.
now take ¼ cup of the roasted peanuts in a small grinder jar. reserve the rest of the ¼ cup. grind to a semi fine or coarse powder.
heat 2 tablespoons peanut oil or ghee in a thick bottomed pan or kadai.
add chopped potatoes.
on a low to medium flame, pan fry the potatoes till they are crisp and golden.
remove the potatoes with a slotted spoon and place aside.
in the same oil or ghee add cumin seeds. saute till they crackle.
now add 1 to 3 green chilies. saute for some seconds.
next add ¼ cup of the roasted peanuts.
also add the shallow fried potatoes. mix very well.
sprinkle rock salt or sendha namak as per taste and add ½ to 1 teaspoon sugar. mix again.
now add the sabudana pearls. stir and mix very well.
cover the pan with a lid, cook for 2 to 3 minutes on a low flame or sim.
then remove the lid. stir again. by now the sabudana pearls will be cooked and appear translucent.
drizzle ½ to 1 teaspoon of lime or lemon juice all over and mix well.
add the ground roasted peanut powder. again mix well.
cover the pan with the lid. switch off the flame and let the sabudana khichdi rest for 1 to 2 minutes.
serve sabudana khichdi hot or warm or at room temperature with lime or lemon wedges.